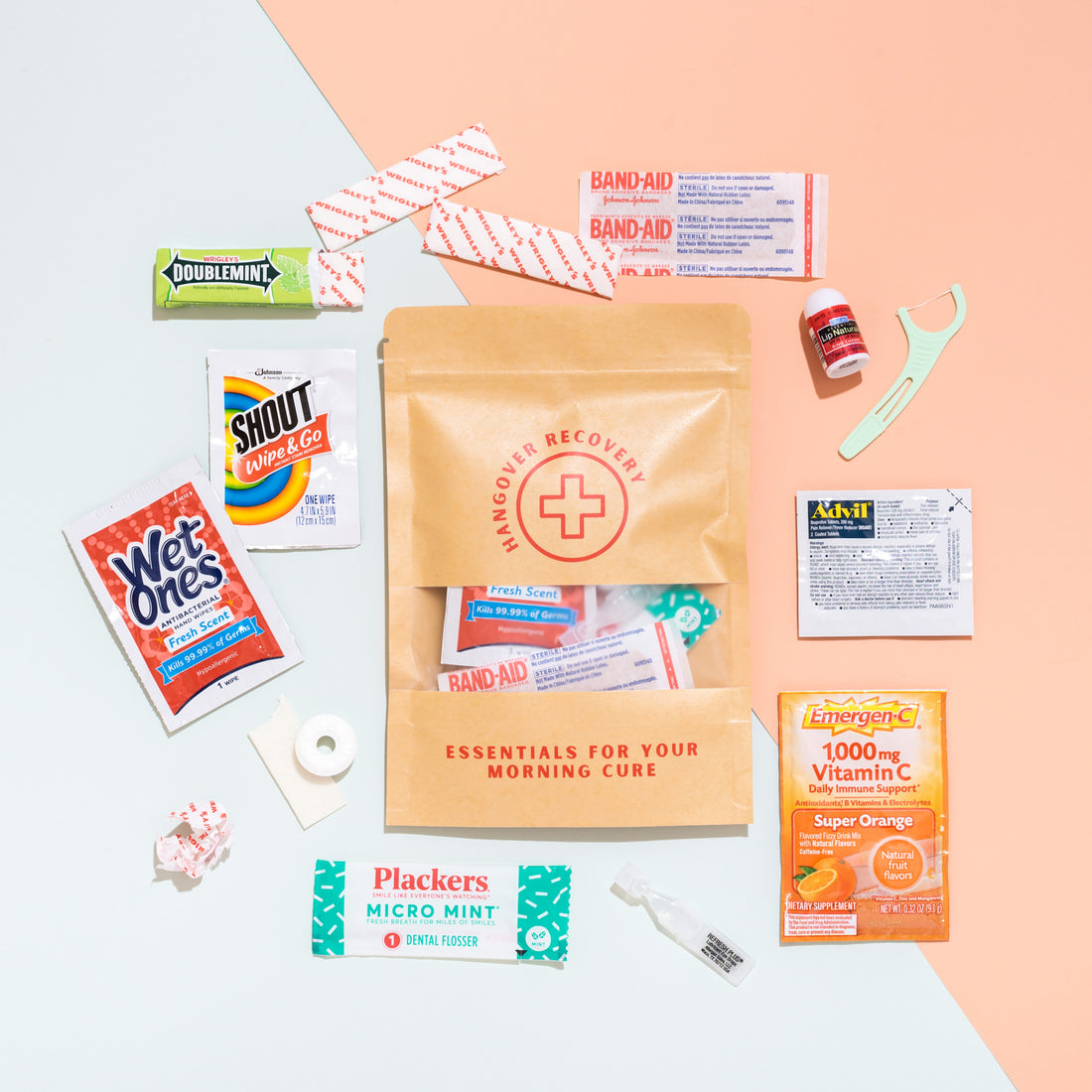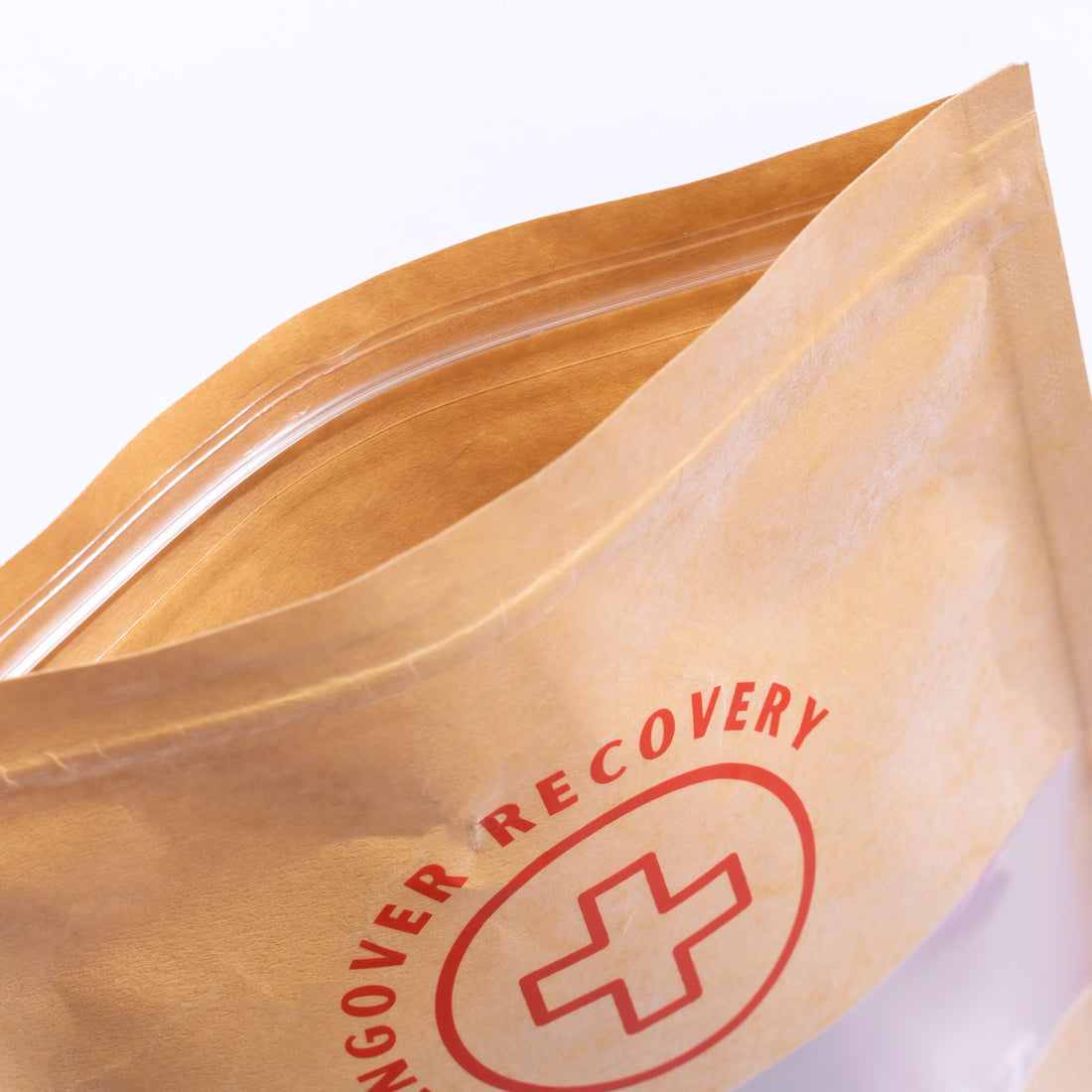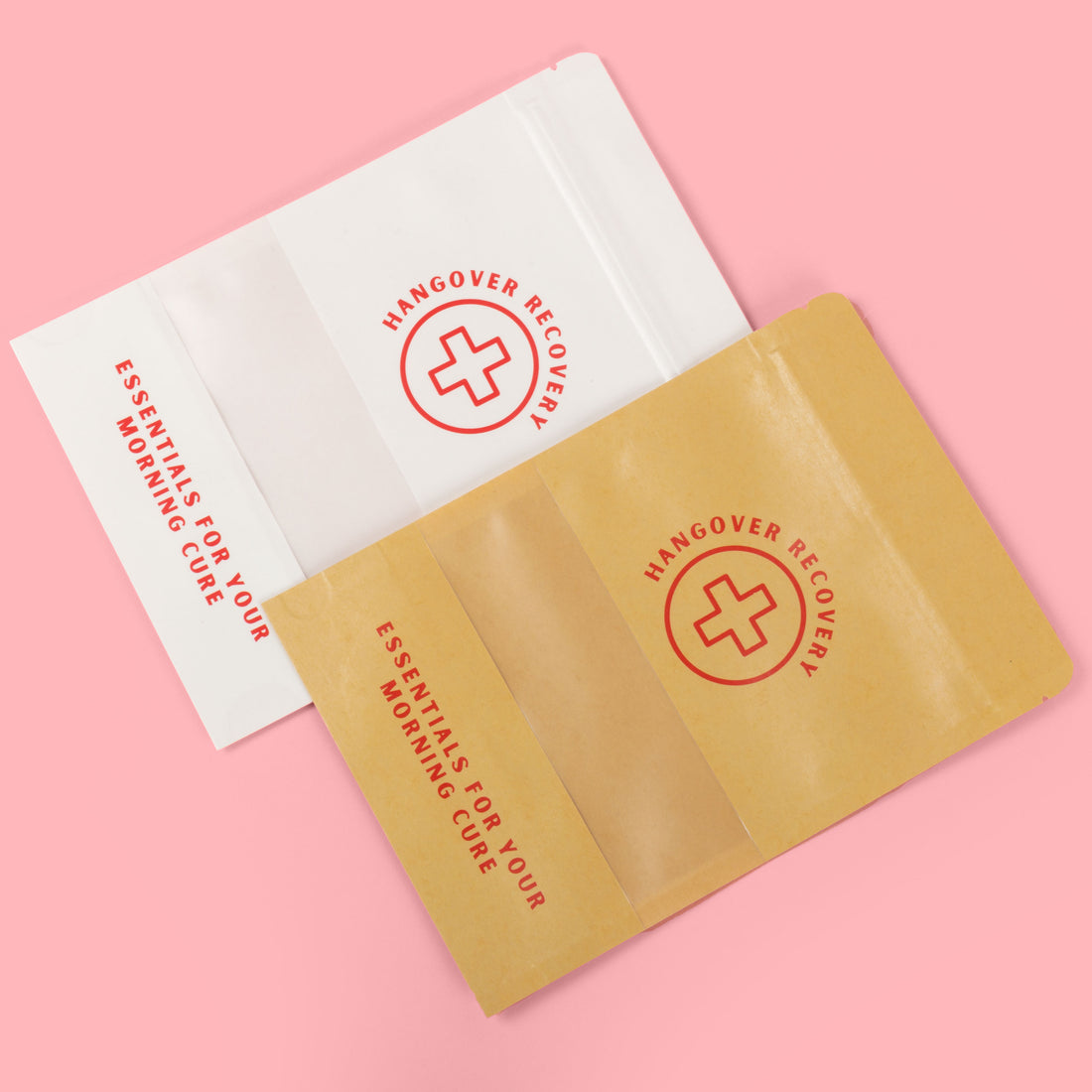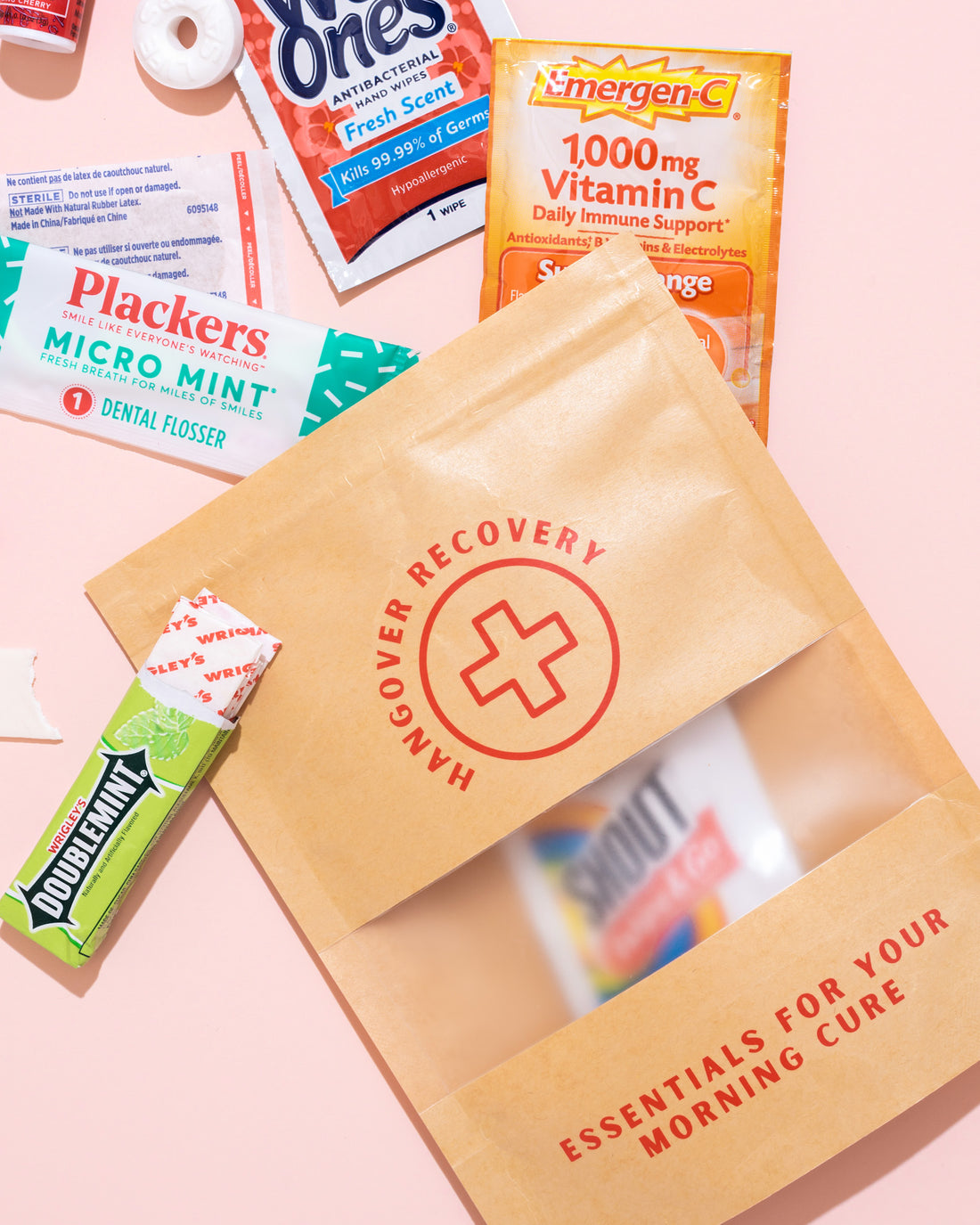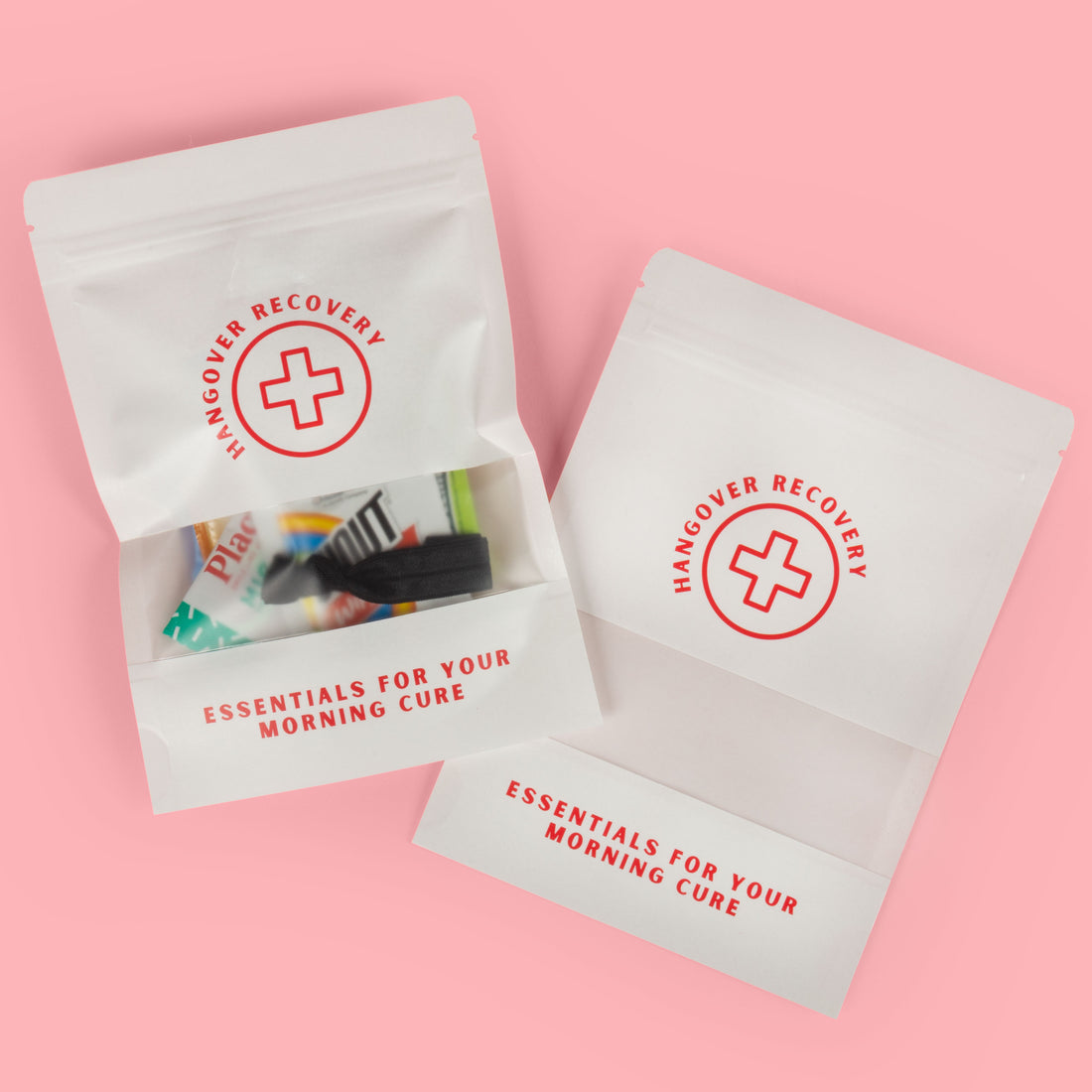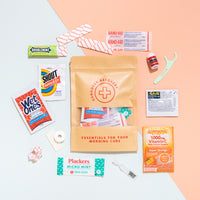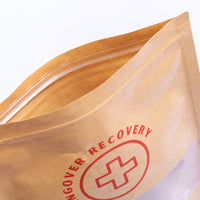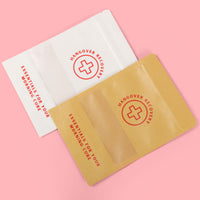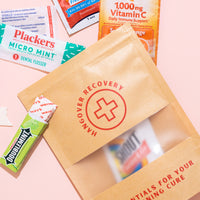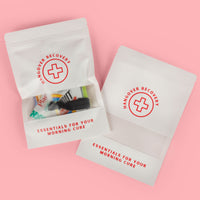 A must-have for your birthday parties, weddings, bachelorettes, and rehearsal dinners, these are a unique way to stand out! Our classic "Hangover Recovery" bag is our most popular ever!

Our premium, stand-up kraft bags are resealable, so they're perfect for your DIY hangover kits. They are approximately 8 inches x 5 inches.

This listing is for empty bags that say "Hangover Recovery". Assembled kits are also available through our store.

COACH - GENDER NEUTRAL
*Kraft bag
1. Purell Wipe
2. Wet One
3. Advil
4. Emergen-C
5. Gum
6. Eye Drops
7. Shout
8. Floss pick
9. Band Aid
10. Ear Plugs

FREQUENT FLYER – WOMEN'S
*White bag
1. Purell Wipe
2. Wet One
3. Advil
4. Emergen-C
5. Gum
6. Eye Drops
7. Shout
8. Floss pick
9. Band Aid
10. Ear Plugs
11. Make up wipe
12. Hair tie
13. Eve wipe
14. Panty liner
15. Refreshing eye patch

FREQUENT FLYER – MEN'S
*White bag
1. Purell Wipe
2. Wet One
3. Advil
4. Emergen-C
5. Gum
6. Eye Drops
7. Shout
8. Floss pick
9. Band Aid
10. Ear Plugs
11. Screen/lens wipe
12. Dude wipe
13. Shoe wipe
14. Comb

JET SETTER – WOMEN'S
*White bag
1. Purell Wipe
2. Wet One
3. Advil
4. Emergen-C
5. Gum
6. Eye Drops
7. Shout
8. Floss pick
9. Band Aid
10. Ear Plugs
11. Make up wipe
12. Hair tie
13. Eve wipe
14. Panty liner
15. Toothbrush
16. Toothpaste
17. Scope
18. Tissues

JET SETTER – MEN'S
*White bag
1. Purell Wipe
2. Wet One
3. Advil
4. Emergen-C
5. Gum
6. Eye Drops
7. Shout
8. Floss pick
9. Band Aid
10. Ear Plugs
11. Screen/lens wipe
12. Dude wipe
13. Shoe wipe
14. Comb
15. Toothbrush
16. Toothpaste
17. Scope
18. Tissues